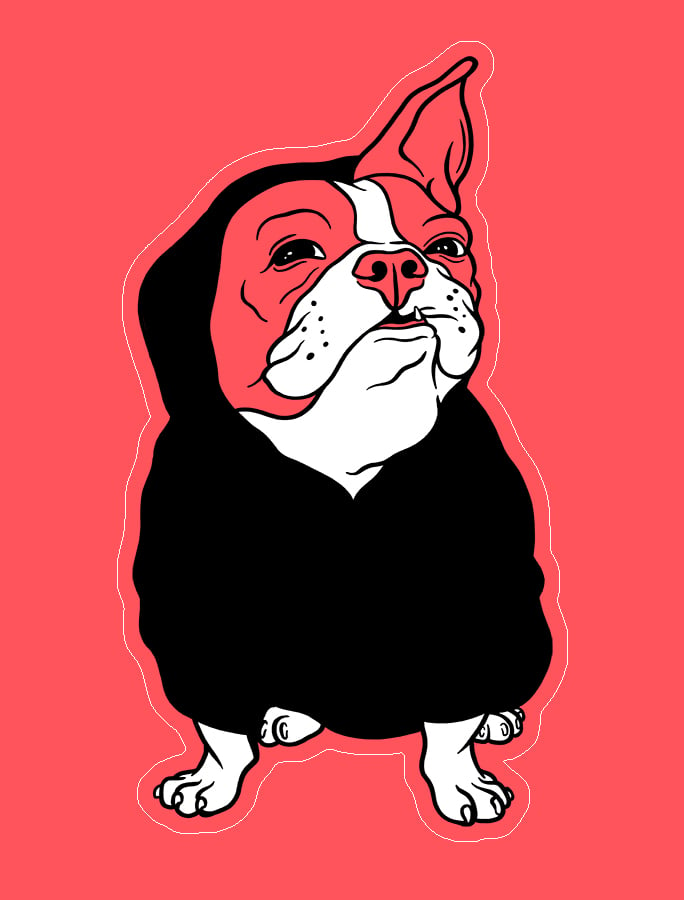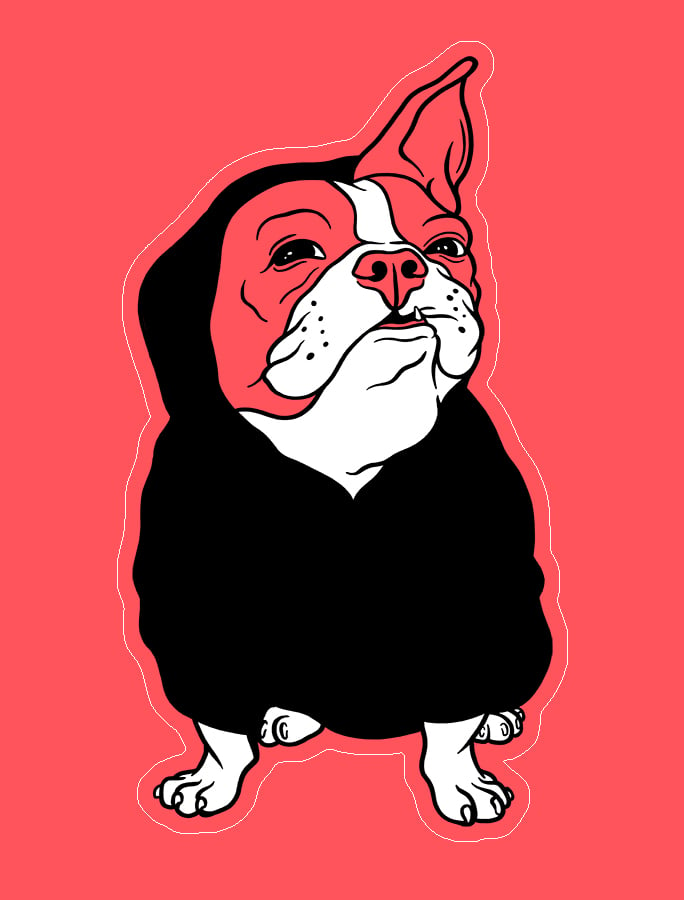 Biggie-Fund Sticker
$3.00
Biggie is our best friend. He has kidney disease and was recently hospitalized to stabilize his levels. We're hopeful that he'll be okay, and we will continue to do whatever we can to keep him healthy and happy. We're selling this design to raise money for his medical bills.
3" Kiss-cut Vinyl sticker
Biggie was adopted on July 14, 2012 through the Friends of Homeless Animals rescue. He was found homeless on the streets in Texas. When he first arrived he was about 2 years old and very timid. After he settled in and realized he was "home" he transformed into the happiest, sweetest, most playful dog I've ever met. Very quickly I formed a deep bond with Biggie and couldn't remember what it was like before he arrived. Even our other Boston Terrier, Duke, who is sometimes intolerant of other dogs almost immediately accepted him into our family.
Shortly after he arrived I noticed a growth on his lip. A bit concerned, our vet referred us to a dental specialist. It was determined a biopsy would need to be done to determine if it was malignant. During this process it was determined he had several teeth that were severely impacted and infected—which was especially surprising given the fact that he had never shown any signs of discomfort. We knew he was a street dog, but didn't realize he was that tough. The effected teeth were removed with the lump and we brought him home. Unfortunately the lump they removed was too small to get an accurate read—so he needed to go in for another surgery. In order to get the amount required they needed to remove more teeth including his front right canine tooth in addition to a fairly large portion of his gum all the way up to the roof of his mouth. I was concerned he might lose his ability to eat dry food and play tug with Duke—their favorite activity.
Biggie's growth was found to be benign and he bounced back from surgery in no time. It was as if nothing happened (aside from proof in the form of credit card bills). His eating was not hindered—he still needed his special bowl with built in obstacles to slow him down. And his tug game? He was still a champ regardless of the fact half of his teeth and gum were missing.
Later that year we learned that Biggie had developed some kidney stones which were causing UTI's. Medicine and a special diet were not helping and we were referred to a specialist at TUFTS. Tested showed that Biggie's kidney's were small and deformed and had been damaged—likely as a result from chronic UTI's and dehydration from living on the streets in Texas. The prognosis for Biggie was not good. We switched him to a prescription food for kidney disease and began monitoring his levels on a regular basis. At the beginning Biggie required blood and urine testing every couple months.
After a year, Biggie's levels seemed to be stable and we were able to limit his tests to a few times a year. His primary vet told us that Biggie was special (WE KNEW THAT) and he was beating the odds.
Life went back to normal and we decided to adopt another dog (because we couldn't help ourselves). Bluie came into our lives a year and a half ago and almost immediately became best friends with Biggie. Having 3 dogs has been a little crazy but seeing them all in a big cuddle pile makes it all worthwhile.
Last week Biggie didn't want to eat. This is very unusual so we took him to the vet for some tests. It was determined that he needed to be hospitalized to receive IV fluids in an attempt to flush out the toxins in his kidneys. We brought him to TUFTS yesterday. As I'm writing this, he's still there and will likely be there through the weekend until they can stabilize his levels. We are hopeful that this will enable his kidneys to go back to a level that we can maintain through his special diet and some medication.
Biggie's vet bills, diet, and medication have always been expensive, but this hospital stay will be upwards of a few thousand dollars. Biggie is my best friend and we love him more than anything so we'll do whatever it takes to keep him happy and healthy. Shayna and I collaborated on this illustration of Biggie that we are selling as both a hand-printed serigraph and a t-shirt to help pay for some of Biggie's hospital bills.